Rent perfection at Kerry Airport
Whether it's flying in for a business conference or a highly anticipated journey around the renowned Ring of Kerry, we understand you want to get where you need to go in style and comfort.  That's why we offer a broad range of car choices & extras so you can enjoy your trip on your terms. Welcome to Kerry Airport and your unique car rental. Help is at hand to get you on the road. 
How to find us
Kerry Airport has only one terminal. As you exit the baggage claim area, make your way through arrivals and out of the terminal to car park 2 where the Avis office is located. At the desk, the Avis rental sales agents will gladly go over the specifics of your particular rental.
Picking up your Avis rental car
We understand that each journey is different so our Avis rental sales agents will have a choice of cars available on site to best meet your specific car hire requirements so you can be on your way swiftly. They will also be happy to give you any advice requested on getting to your next destination. 
Getting Around like a local
Whether you are navigating the many points of interest along the Kerry Coastline or attending an important industry seminar we know your time is precious to you. That's why we offer GPS so you can either get around with the minimum of fuss whatever your itinerary is.
The Airport is located in Farranfore, Co. Kerry. It is approx 15 minutes' drive from 2 of the county's main towns, Tralee and Killarney. The N22/N23 will take you into Tralee, whilst the N22 South will take you into Killarney. The N70 can be accessed from either of these towns and is the main route that takes you along the lovely coastline of Kerry.
Kerry's rugged landscape and interesting are best explored by car.   
If you are unfamiliar with Irish Roads and the Rules of the Road here are some handy and information.  
Breakdown assistance: Peace of mind is so important when you are navigating unfamiliar areas. That's why we continually service our vehicles to very high standards but in the rare case that you do experience a breakdown in one of our vehicles, just ring our freephone number for roadside assistance, 24 hours a day, 7 days a week.
Returning your Avis rental car
Your time is important. That's why our Avis rental agent we will be sure to have you on your way quickly after drop off, with the airport terminal only a few minutes' walk away. 
We understand. That's why we try harder. 
Book Now
Share the spotlight
You can easily add an extra driver during the booking process, just make sure they bring along their driving licence when picking up at Kerry Airport.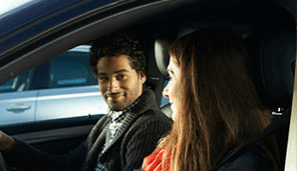 Modern Maps
With the very best Satellite navigation systems available at our Kerry Airport location, you can get lost in the moment without actually getting lost on the map.