Rent perfection at Knock Airport
As a gateway to the picturesque West of Ireland we understand that our car rental customers flying in to Knock Airport want to traverse the untamed landscapes and charming towns in style and comfort.  That's why we offer a broad range of car choices & extras so you can enjoy your trip on your terms. Welcome to Knock Airport and your unique car rental. Help is at hand to get you on the road. 
How to find us
Knock Airport has only one terminal. The Avis desk is located in the Arrivals Hall on the left as you exit the baggage area. Here the Avis rental sales agents will gladly go over the specifics of your particular rental and soon have you ready to pick up your choice of car with all requested extra's ready to go.  
Picking up your Avis rental car
We understand that each airport is different so our Avis rental sales agents will be happy to direct you to your pick point only a couple of minutes' walk away.
Walking out the door of the terminal, turn right and make the short walk straight ahead to the car park which is well signed for car hire to pick up your chosen vehicle.
Getting Around like a local
Taking a jam packed summer holiday or a short country break we know your time is precious. That's why we offer GPS so you can either get straight to the point or take the long way round when it suits.   
Often referred to as "Ireland West Airport" the airport is located in Charlestown, Co.Mayo, off the main Galway-Sligo Road. Follow the N17 South in to Galway in a little over an hour. Take the N5 directly in to Mayo in the same time. Take the N15 North to Sligo and Donegal or the N4 to bring you further East.  
The West of Ireland holds many attractions and can keep the most intrepid traveller busy for days. Explore the rugged coastlines and discover its best by car.
If you are unfamiliar with Irish Roads and the Rules of the Road here are some handy and information.  
Breakdown assistance: Having peace of mind as you explore new territory is a must. That's why we make sure to continually service our vehicles to very high standards prior to pick up. If you do have a breakdown in one of our vehicles, just ring our freephone number for roadside assistance, 24 hours a day, 7 days a week.
Returning your AVIS rental car
Your time is important. That's why our Avis rental agent we will be sure to have you on your way in quickly after drop off, with the airport terminal only a few minutes' walk away. 
We appreciate that not all travel occurs in normal hours. If you have requirements for drop off at unusual times just make sure to give us a call in advance and we will arrange it.
We understand. That's why we try harder. 
Book Now
Share the spotlight
You can easily add an extra driver during the booking process, just make sure they bring along their driving licence when picking up at Ireland West Airport.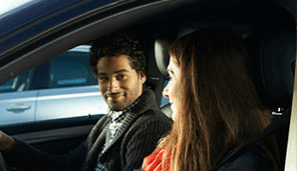 Modern Maps
With the very best Satellite navigation systems available at our Ireland West Airport location, you can get lost in the moment without actually getting lost on the map.